Jnane Tamsna blends Meryanne Loum-Martin's splendid interior design and Gary Martin's serene nine-acre garden. Integrating 5 houses, 5 pools and a tennis court, this unique boutique hotel offers 24 individual rooms, private villa rentals and full exclusivity for events.
Drawing on Morocco's rich culinary heritage and inspired by modern Mediterranean cuisine, meals are a movable feast to be enjoyed in our vast gardens or in our spacious dining room.
"We ate spicy Andalou gazpacho, fish pastilla, tagine of ginger chicken served on a bed of jewel-like Jnane pomegranate sprinkled on couscous, followed by a table of desserts:delicious".

Wander the paths of our botanical garden, take a refreshing swim in one of our five swimming pools and enjoy a delicious lunch in the shade of our date palms… all part of a refreshing and rejuvenating day at Jnane Tamsna.
Discover local dishes and spices with our charming Chef Bahija, whose passion for Moroccan cuisine is contagious. Her popular classes, which have been featured on television around the world, can be tailor-made to create the perfect culinary experience.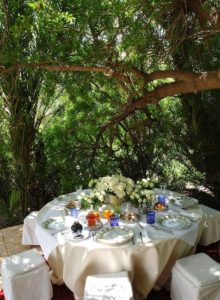 CELEBRATE
After champagne, canapés and speeches, local performers in traditional costume hoisted the newlyweds onto palanquins to carry them to the wedding feast, amid a cacophony of singing, fanfare and the playing of an array of Berber musical instruments. We followed them through the olive groves to a beautiful candle-lit table, set for 130 guests and stretching for what seemed like miles. There were over 1,000 twinkling candles, colourful vases of pink and orange roses, and huge glass lanterns hanging from the trees.

or a happy birthday party for kids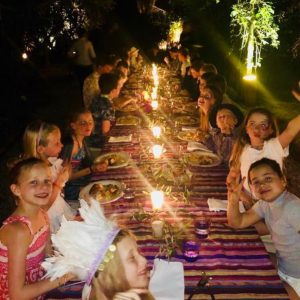 Contact :
Jnane Tamsna
Douar Abiad
La Palmeraie
Marrakech
+212 524 32 84 84